Key points
Devenish Lands at Dowth in Ireland is one of the world's oldest working farms
Today it is a model farm demonstrating production of low-carbon beef and lamb
Research results underpin calls for policies recognising livestock's role as climate solution
IN response to the question 'is livestock agriculture sustainable?', Devenish Lands at Dowth in Ireland offers a compelling answer.
It is one of the world's oldest farms, with 6000 years of documented farming history.
Ancient monuments including a neolithic passage tomb and henge and can be found at the UNESCO World Heritage listed site.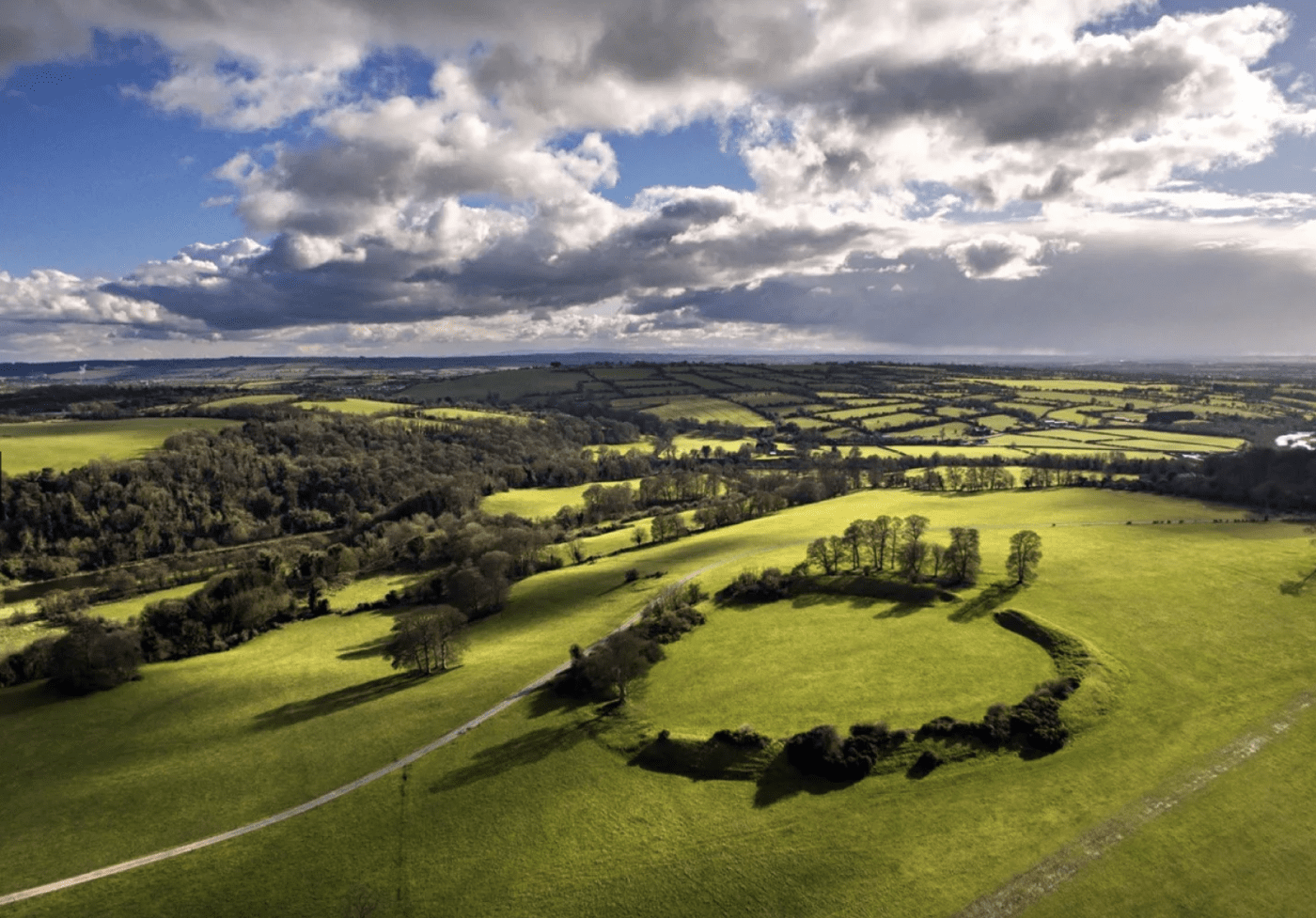 A Norman castle, a Georgian residence and a Victorian manor form part of the picturesque landscape set against woodlands and lush, hedgerow-lined pastures in a scenic bend of the historic River Boyne north of Dublin.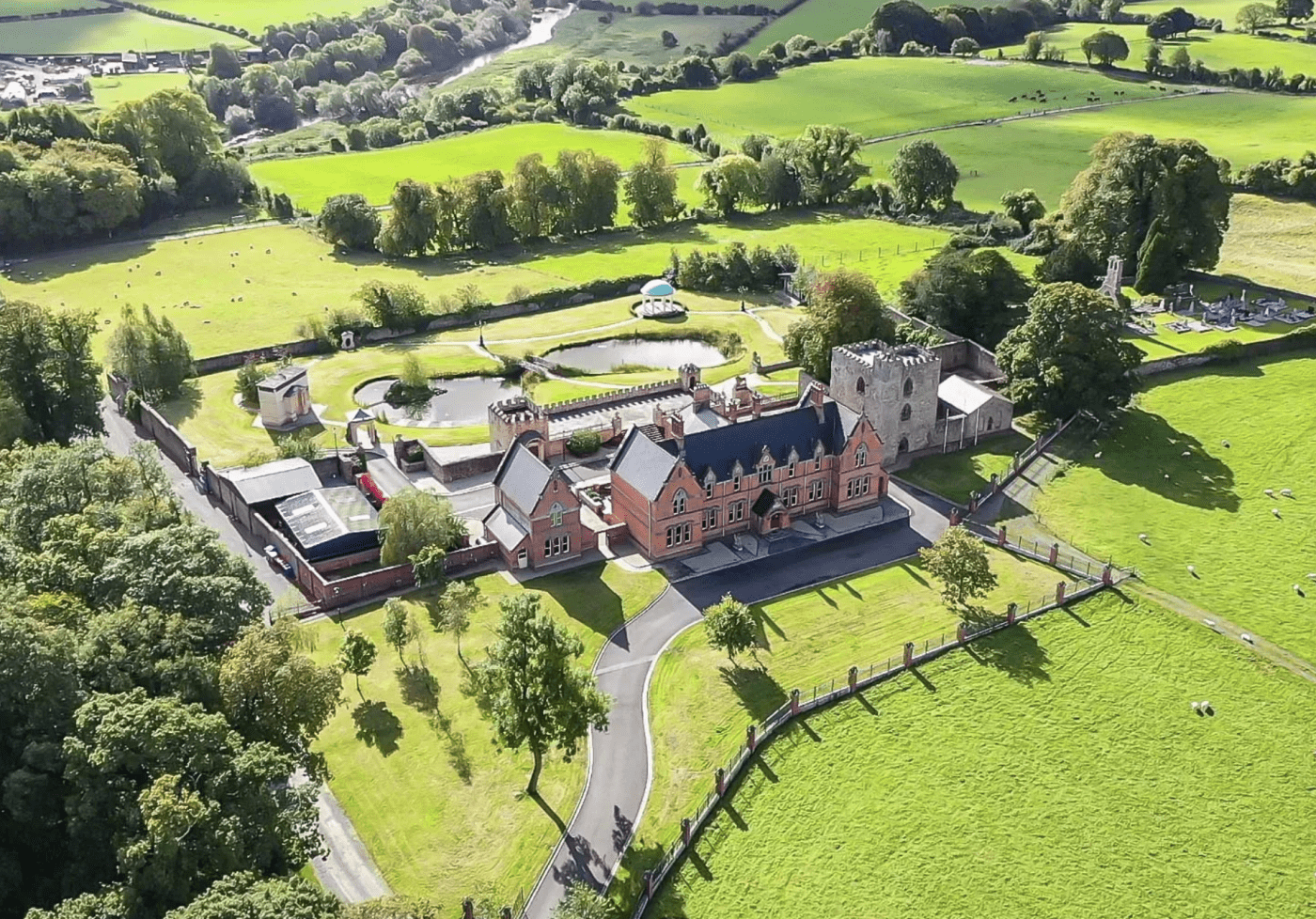 The 223-hectare (552 acre) property has been farmed since the Neolithic era.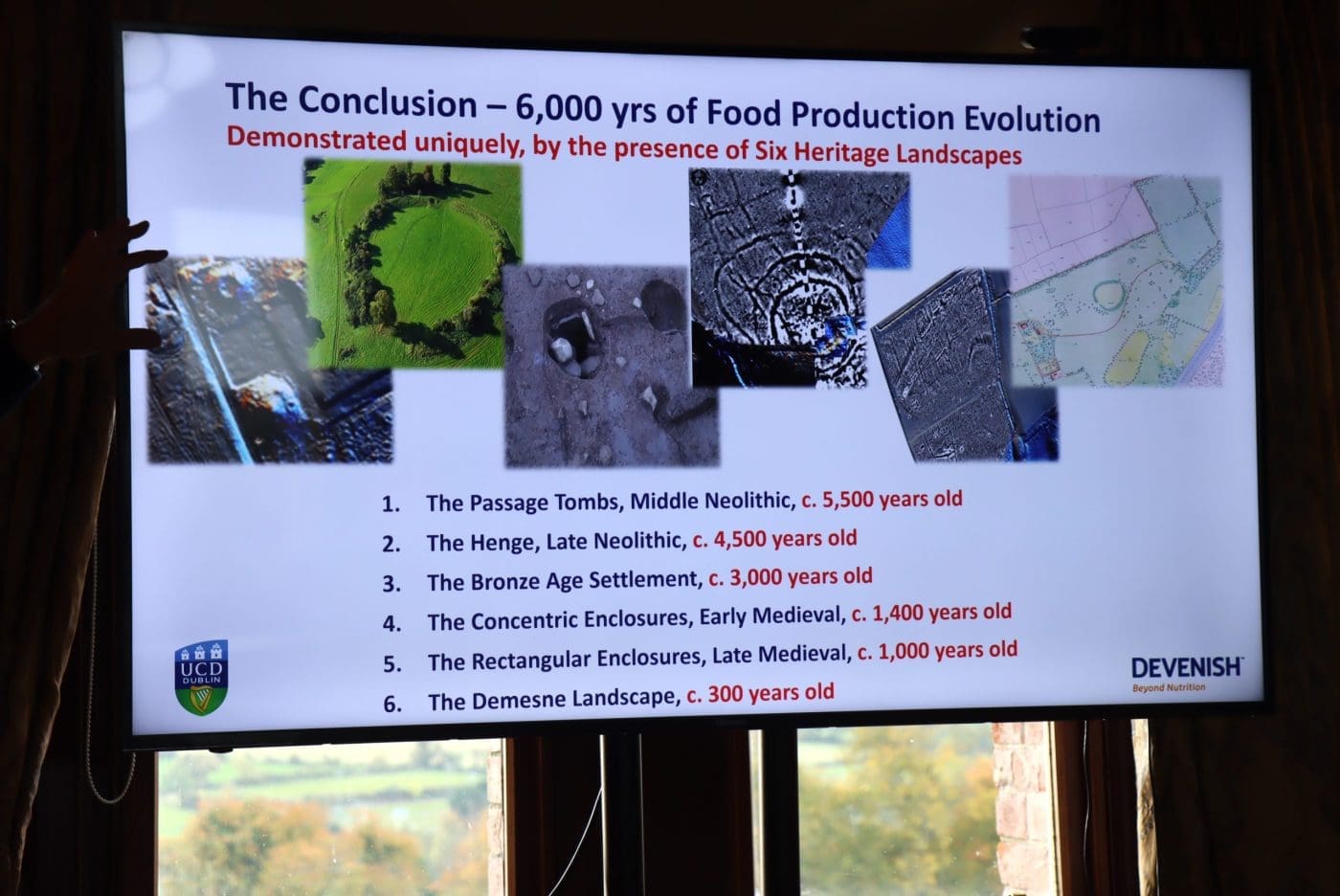 But, despites its age-old heritage, it is now an advanced showcase of future-focused agricultural research and innovation.
Under the ownership of Irish agri-technology and animal nutrition company Devenish, it has been managed for more than a decade as a "performance house" or model farm, where reserch is showing how precision measurement and systems-thinking can be used to  successfully produce low-carbon-beef and lamb.
Results at the farm are also proving that sheep and cattle production can indeed go "beyond" carbon neutral, work that reinforces why changes to policy are needed to recognise livestock as a climate solution, instead of being viewed only as a climate problem (more on this below).
A 'lighthouse' farm
Thousands of people including farmers from across Ireland and indeed all over the world visit the farm each year, which, in partnership with Wageningen University & Research, is one of 12 so-called "lighthouse" farms. The Lighthouse farms form a global network of "living labs" on five continents which are designed to serve as beacon of light for other farmers.
Beef Central visited the Devenish Lands at Dowth late last year with a delegation of Australians attending the Societal Role of Meat conference, where the 'Dublin Declaration' supporting the role of livestock in sustainable food systems and human diets was launched, now signed by almost 1000 scientists worldwide.
After 6000 years of history the Devenish Lands at Dowth is now about to start a new chapter, after Devenish has recently announced a decision to sell the property as part of a restructuring of the Belfast-based agritech company. The property and its striking historical architecture is now being offered for sale for a price of 10 million Euro.
During our visit in October last year, Devenish director of Global Agriculture and Sustainability Dr John Gilliland (below) provided a deep and engaging overview of how work on the farm is helping to provide a pathway for the future of low-carbon farming.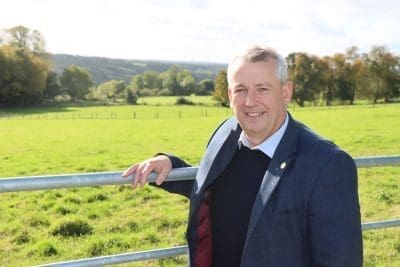 One of the challenges faced by the Irish farming sector is a reliance on perennial rye-grass monocultures fertilised by synthetic nitrogen.
Turning rye grass monocultures into biodiverse pasture powerhouses
A comprehensive "Heartland" project at the Devenish Lands at Dowth, funded by the Marie Curie programme of the EU, has examined multi-species pasture swards as a solution.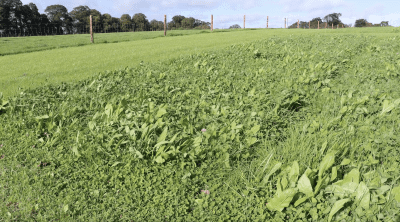 Working with a team of five PhD students, the Heartland project has documented impressive results from the pasture diversity project, including:
A 65pc reduction in synthetic nitrogen,
a 26pc reduction in greenhouse gas emissions compared to perennial rye grass,
An average 20pc improvement in average daily weight gain (17pc for beef and 32pc for lamb),
Lambs reaching slaughter weight 50 days earlier,
A 300 percent increase in earth worms, and
14 times faster penetration of water into the sward.
"It is really proving that you actually can deliver win-wins," Dr Gilliland said.
"We now know that if we were to convert the whole farm into multispecies swards (not including woodland areas), Dowth could be net zero today without adjusting stocking density at all."
Dr Gilliland, a former President  of the Ulster Farmers Union, has chaired multi-stakeholder forums for the British Government on climate change, farming and food, and is one of 15 people appointed to the EU's Soil Mission Board, overseeing the implementation of the soil vision for the whole of the European Union.
He said that while farms such as Dowth are showing that cattle and sheep production can be "beyond carbon neutral", current policy frameworks in Europe only measure what farms emit, not what they store.
Call for carbon balance sheets
He believes the answer lies in introducing whole farm business carbon balance sheets, where a farm's liabilities (its emissions) are also balanced against its assets (its carbon stocks) to produce a 'profit and loss account'.
"You have a net worth, and over time what you hope is your net worth in carbon stocks and greenhouse gas emissions goes the right way."
Australia is further ahead in recognising carbon stocks in the landscapes, he notes, adding that in Europe "we are miles behind on this".
Dr Gilliland says resistance to such policy frameworks at Government level is based largely on the view that it is difficult to measure carbon stocks on farm, which has led to carbon sequestration being ruled out as a policy instrument.
Yet work at Devenish Lands at Dowth is comprehensively demonstrating that carbon stocks can be effectively measured.
Supported by the presence of significant archaeological sites, the farm has been measured using a wide array of technology both above and below ground, including laser measurement (lidar), high-tech aerial cameras, geophysics surveys, along with precision sampling and analysis of soil PH, calcium, magnesium, potash, phosphate levels.
Carbon asset register
The data captured has enabled Dowth to create a carbon asset register, showing where total carbon lies in the landscape.
It shows that 72pc of carbon sits in the farm's soils and 28pc above ground in woodlands and hedgerows.
"We're managing just under 60,000 tonnes of CO2e a year," he said.
"That is not additional, that is just our stocks."
The asset register means the amount of carbon stored above and below the ground can now be measured at regular intervals in future, providing the baseline to measure and verify changes in carbon stocks in future.
Dr Gilliland refers to baselines and measurement as "the farmer's friend".
"Precision helps us," he says. "It is crude averaging and assumptions that are hurting us."
He said cattle and sheep farming should be seen as part of the climate solution, but without policy frameworks to recognise both sides of the carbon equation, farming will continue to be seen only as part of the problem.
'How much carbon do you manage?'
Dr Gilliland says measurement is now equipping farmers with the data they need to defend themselves from claims agriculture is not sustainable.
On his own farm in Northern Ireland he points out that he manages  25,500t of carbon.
"When I am asked by a concerned citizen about those 'wretched' cows and whatever else, I say, well hold on, before you criticise my cows, just remember I do one thing. And that is I manage a landscape of carbon.
"We are the custodians of the nation's carbon. How much carbon do you manage?
"And there is a silence, they have no answer.
"So, this at least helps to start to balance up the public narrative, about what grazing livestock, what grazing producers, actually do."
Hedging carbon bets
Ireland is full of hedges.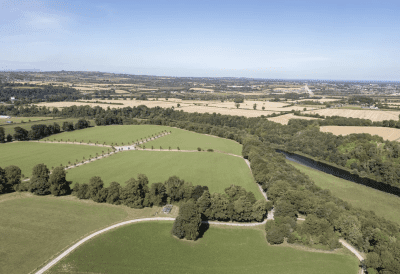 Over the past half century or so many farmers were encouraged to replace hedges with electric fences, but many are now converting back to hedgerows, a visible way of returning habitats to the landscape and adding carbon stocks, which lidar measurement can pick up at regular intervals to document change.
Lidar measurements of tonnes of carbon per hectare on Dowth show that hedges have 50 percent greater carbon density than woodlands.
It makes sense if you think about it, Dr Gilliland points out: Hedges are designed to be stock proof, so are far more dense. "You can walk through a woodland, but you can't walk through a hedge."
The measurement work indicates the hedgerows on Dowth are sequestering roughly 665 tonnes a year.
But at the moment, Irish hedge rows are not in the national inventory.
As a result, farms like Dowth get no credit for the 12.5 percent increase in carbon stocks they have recorded in hedgerows over the past seven years.
Land utilisation changes have also led to a significant increase in soil carbon percentages on Dowth, challenging IPCC perspectives that soil carbon levels under long-term grass pastures plateau and do not increase.
This highlights another issue that Dr Gilliland likes to emphasise: "Over half the world's biodiversity is under the soil, which a lot of the NGOs forget about".
His advice to policy makers is that if you want farmers to move towards more sustainable farming practices, you must start with measurement and transparency to show them where they are on this journey and then putting a supporting policy framework in place.
"Empower them, help them find out where they are, what their net position is and where, how they benchmark them against their peers," he said.
"We then need policies and a framework that recognises that a diverse, dynamic livestock business can get to net zero."
'You are what you eat eats'
Central to the philosophy Devenish has taken in its management of Dowth is a "one-health" approach to people, food, environment.
The work is founded on the view that human health starts with soil health.
Or, put another way, "you are what you eat eats".
Changing perceptions
The company has also been open in sharing all of its research, welcoming an estimated 10,000 people to the farm on tours per year.
Dr Gilliland says some farmers come "begrudgingly because they have been coerced".
"But I'm yet to see anyone getting back on the bus without a spring in their step."