As refugee families continue to arrive in Ireland their children can face significant challenges adapting to the education curriculum and learning to speak English.
But technology has transformed the way lessons are taught with phones actively encouraged in the classroom.
More than 700 students attend St Nathy's College in Ballaghaderreen in Roscommon.
There are 27 nationalities in the school. Among them, teenagers from Syria and Afghanistan.
They came here under the Irish Refugee Protection Programme in the past year and are living nearby in emergency accommodation.
School is very much a sanctuary for these students fleeing warfare and getting an education is key.
Pupils log into a live PowerPoint presentation and as the teacher speaks, the information goes into their phones in real time and in their own language.
Today Shakespeare was being translated into Arabic but the English text remains visible aswell.
Niayesh and Seta Karimi are 13-year-old twins from Afghanistan. One likes to wear the hijab. One likes her hair free flowing.
Both like making the choice for themselves. Niayesh says she's very happy to be in Ireland.
"I have so much more freedom here," Niayesh said.
"At home in Afghanistan the Taliban tried to control us, stop us from going to school to get an education.
"They wanted us to stay at home. Now I will learn to speak English and go to college and hopefully follow a career in science.
"Maybe I'll become a doctor."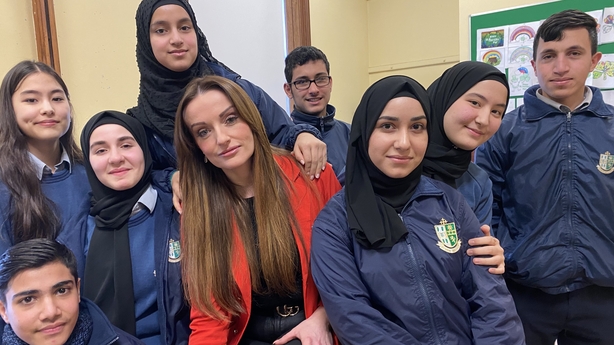 Martina Peyton says it is a privilege to teach the students who have come through so much in their young lives
"It's actually making me quite emotional listening to the children today because of how much progress they have made," Ms Peyton said.
"Some of these girls never had the opportunity to go to school because education just wasn't seen as important for them.
"Some also came from traumatic backgrounds where they've lost family members and so forth.
"And you'll see even from meeting our students today, they are so happy to be in school.
"They want to learn, they want to go on to third level, they have dreams, they have ideas, they have plans and just to be to be part of that and be able to work with such wonderful children is a privilege."
For students living here all of their lives, and for the very recent newcomers, this diverse melting pot of languages and cultures has been transformational.
Neasa McDonnell grew up in a village near Ballaghderreen and said she has made great friends in such a diverse secondary school.
"I'm so much more aware of different cultures and religions," Neasa said.
"We have students from all over the world and it's beneficial for everybody and teaches mutual respect."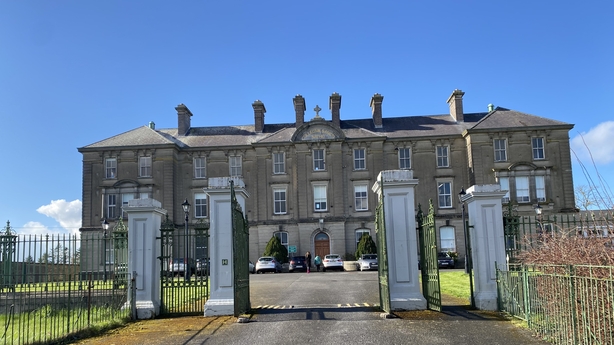 St Nathy's College was once a traditional all boys Catholic boarding school.
Teacher Seamus Curley joined the school 34 years ago
"Over the past few years, we've had to adapt our lesson plans to be able to include all of these students, and we have done that but in a variety of ways, and their level of English has improved," Mr Curley said.
"And that language barrier that was there when they came first is being steadily broken down through the use of smart technology and the kindness and experience of teaching staff."