Greensboro, N.C. (theACC.com) – Florida State and Georgia Tech will open the 2024 football season in Dublin, Ireland, in the Aer Lingus College Football Classic, the Atlantic Coast Conference announced today. The game, which will be the ACC opener for both schools, will be held Aug. 24, 2024, at Aviva Stadium, and Georgia Tech will serve as the home team.
This will be the second time two ACC schools have opened the season in Dublin. Georgia Tech, which is making its second appearance in the Aer Lingus Classic, downed Boston College, 17-14, in the 2016 version in Dublin. This will mark the first international game in the storied history of Florida State football.
More than 12,000 Georgia Tech fans traveled to Dublin, Ireland for the Yellow Jackets' season-opening win over Boston College in 2016
"This is an incredible opportunity for our student-athletes at Florida State and Georgia Tech to expand the reach of ACC football and play in front of an international audience," said ACC Commissioner Jim Phillips, Ph.D. "We appreciate the flexibility of both Florida State and Georgia Tech, and thank our partners at Irish American Events, for making this game a reality. The ACC is recognized around the globe for the combination of outstanding athletics and academics at its member institutions. We look forward and are excited about showcasing these two teams and our incredible conference to the fans in Dublin."
Georgia Tech will hold a press conference on today at 2:30 p.m. to discuss the game. Florida State will hold its press conference on March 21 at 10 a.m.
The game is being organized by Irish American Events Ltd. (IAEL). Anthony Travel/On Location and Corporate.ie partnered together in 2016 to create the Aer Lingus College Football Classic through the formation of IAEL. IAEL aims to bring American college football to Ireland each year to promote Ireland as a travel destination, and 2024 will be the third consecutive season that college football begins its season with a game in Dublin between two prestigious teams.
IAEL most recently took gold in the Best Collaboration between Public and Private Sector category at the 2023 Invest in Ireland Awards and has been previously recognized as the Best International Sports Event (Federation of Irish Sport Sport Industry Awards, 2016), Best Major Event (Irish Tourism Awards, 2017) and Best Sporting Event (Event Industry Awards, 2017).
"After tremendous success in 2022 with the Aer Lingus College Football Classic leading the Irish tourism recovery post-COVID, we are absolutely thrilled to be heading back to Ireland in 2023 and now to announce this exciting matchup between ACC foes Florida State and Georgia Tech in 2024," said John Anthony, Co-Founder of the Aer Lingus Classic and Executive VP, Collegiate of On Location. "We are excited to welcome Georgia Tech back again and look forward to introducing Florida State and Seminole fans to the spectacular people and beauty of Ireland."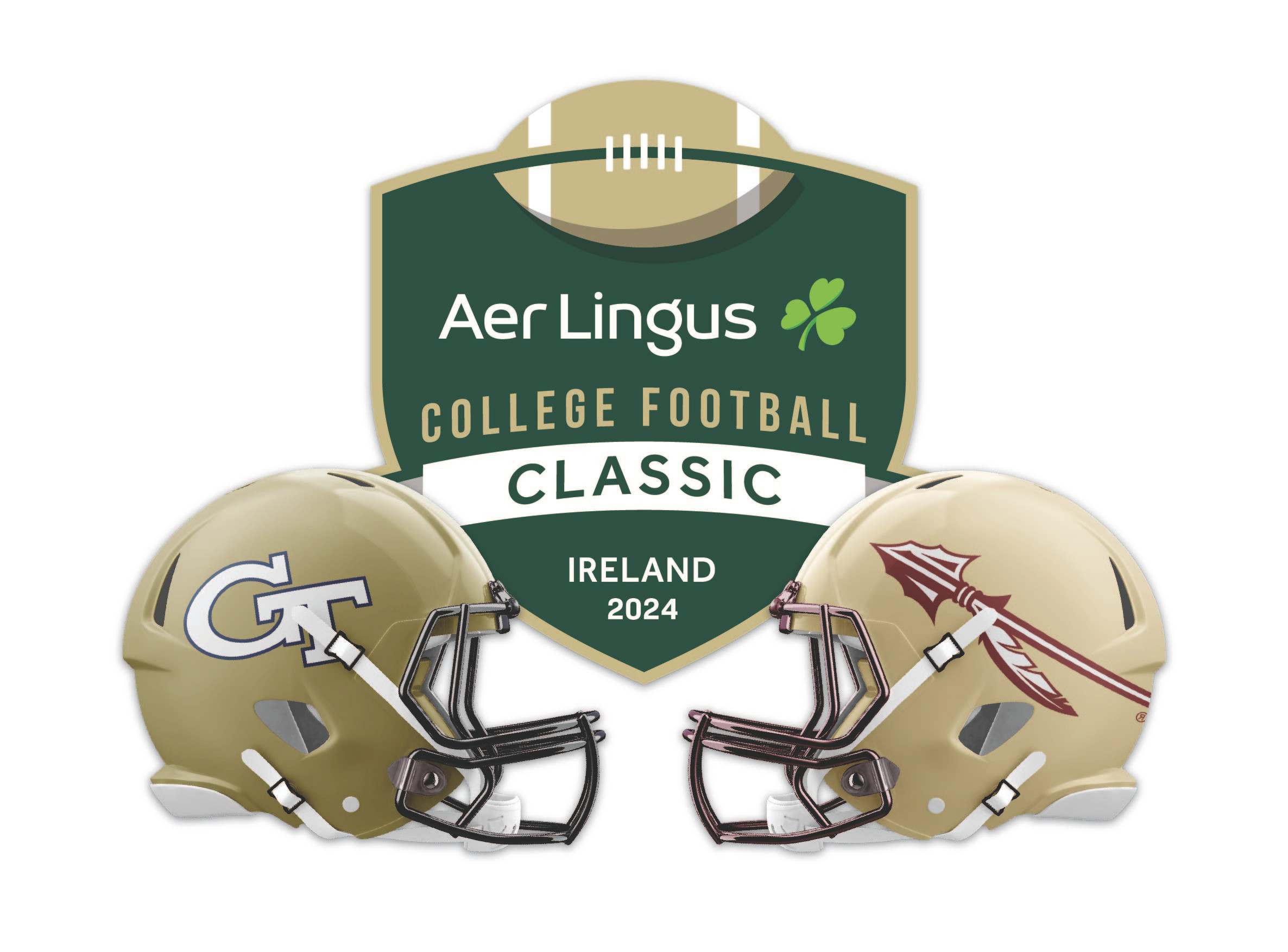 Georgia Tech Director of Athletics J Batt:
"Georgia Tech is excited and grateful for the opportunity to return to Ireland and play ACC rival Florida State in the 2024 Aer Lingus College Football Classic. More than 12,000 Tech fans made the trip to Dublin to see the Yellow Jackets defeat Boston College in 2016, and we're looking forward to a large contingent of Jacket fans crossing the pond once again to cheer on Georgia Tech at Aviva Stadium. As one of the world's most renowned institutions and one of college football's most recognizable programs, it's a natural fit for the Yellow Jackets to be on the international stage, and we can't wait for our student-athletes and fans to experience the culture of the Emerald Isle."
Georgia Tech Head Coach Brent Key:
"Being selected to play in the 2024 Aer Lingus College Football Classic is a great opportunity for Georgia Tech football. It's a unique chance for our student-athletes to experience a new culture, for our fans to support us at an incredible destination and for Georgia Tech to further promote our Institute, athletics department, students and alumni on a global stage. It's also a great platform for the ACC to showcase our brand of football and what makes us one of the top conferences in college football. It's a long way away, and we have a lot of things to focus on in the meantime, but we're excited for today's announcement."
Florida State Head Coach Mike Norvell:
"I am so excited for our student-athletes, coaches, staff, administration and fans for this opportunity. When this idea was first presented to me, I was immediately intrigued by a once-in-a-lifetime experience for the people in our program. The way the 2024 season lays out with a third open date, the trip made sense from a football perspective as well. Very few people have the chance to travel to a different continent and experience another culture, much less take an entire team, so I am appreciative of everyone's hard work and support to make this game happen."
Florida State Vice President and Director of Athletics Michael Alford:
"Florida State is a global brand, and this game further enforces that. This game allows us to provide an unmatched athletic and cultural experience for our student-athletes while representing Florida State on a global stage. I am looking forward to seeing our fans in Dublin while also making new fans across the Atlantic. We are appreciative of all the efforts that have already gone into the planning of this game and are excited for what is to come over the next year and a half."