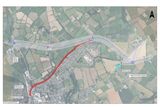 A senior official with Cork County Council has confirmed that the local authority have submitted an allocation request to Transport Infrastructure Ireland (TII) for 2024 that includes a significant funding request for the N72/N73 Mallow Relief Road.
Senior Engineer Roads and Transportation Sean Callery said if their funding request is granted, it would be sufficient to progress the scheme during 2024, but warned that if no funding is provided the scheme will continue to be paused.
Mr Callery was replying to a motion from Fine Gael councillor Tony O'Shea at Monday's Northern Committee meeting which sought an update on the submission for National Roads funding for 2024.
Mr Callery said they have requested funds in excess of €1 million to progress the scheme next year. "The level of funding that has been requested is in excess of €1 million and would be sufficient to progress the scheme in 2024. That would be to prepare and submit a planning application for the scheme. If the funding is not granted or that level of funding is not provided it will hamper the progress of the scheme significantly. If no funding is provided it will continue to be on pause.
"The allocation usually comes out towards the end of the year, but in 2023 we actually got it in the early part of the year. We hope to get it before Christmas but it could come out early next year," he added.
Fine Gael councillor Tony O'Shea thanked the engineer for his response and said it is 'critically' important that funds are provided for next year. "It is crucially important that this is funded for next year because if it is not I think we will have to go back and start all over again. The most important thing is that we get the funding required to bring it to the planning stage in 2024."
"It is really disheartening," said Fianna Fáil councillor Pat Hayes. "The difficulty I see is that there is no change in the minister as regards transport. If the same minister won't step up and allocate it, what are we going to do? How are we going to resolve this issue as regards getting this funding to progress? We have practically lost a year. We need further action at this stage. I see very little light at the end of this tunnel with what is in place at present."
Fianna Fáil councillor Gearóid Murphy said he shared the same concerns about Minister Ryan with his party colleague. "Essentially this is the main road for many parts of Duhallow to Dublin. It is an essential piece of infrastructure. I share the concerns of Cllr Hayes regarding the minister. It has been disgraceful how the minister has treated this project and committee, firstly personally overruling it essentially, secondly failing to provide any explanation as to why he did so and refusing to meet us.
Labour Party James Kennedy said there was no logic to the minister's decision, while Fine Gael councillor John Paul O'Shea said the project is now entering a 'critical' phase. "We are in a critical phase now in terms of applying for national funding for 2024. The project is currently on hold and if we lose another 12 months questions will have to be asked do we have to go back to the start of the project. We can't lose another 12 months."
Niall Healy, Cork County Council's director of service for roads and transportation acknowledged the importance of the project. "From an executive's perspective this is a highly essential project. We have put in a significant ask to bring the project to a planning stage next year. We have articulated clearly to TII the importance of this project and rebuilding momentum on it."