Alabama men's basketball freshman Kai Spears issued a statement Thursday disputing a recent report from The New York Times that identified him as one of four Crimson Tide players at the scene of the deadly shooting of 23-year-old Jamea Jonae Harris Jan. 15.
The report said Spears was at the scene of the fatal shooting along with teammates Brandon Miller, Darius Miles and Jaden Bradley.
Spears slammed the report, saying it "was 100% inaccurate and the writer had complete disregard for the truth."
CLICK HERE FOR MORE SPORTS COVERAGE ON FOXNEWS.COM
The report placed Spears in Miller's car when two bullets hit the windshield, a source told the Times.
"I have one thing to say – the report in the New York Times was 100% inaccurate and the writer had complete disregard for the truth," Spears wrote in an Instagram post. "I am trying to process and cope with these false statements that somehow have been published and then seen by so many. So thankful to Alabama Athletics for refuting it on my behalf."
FURMAN RECORDS FIRST UPSET OF 2023 MARCH MADNESS, TAKING DOWN VIRGINIA WITH WILD LATE SEQUENCE
Spears concluded the statement by expressing his sadness about the events that took place on the night of Jan. 15.
"More than anything… I remain completely heartbroken by the tragic death that occurred that night."
Kai's father, Christian Spears, is the athletic director at Marshall, and he issued a separate statement on Thursday.
"I am just incredibly disappointed in the irresponsible and demonstrably false reporting by The New York Times," Spears said via the athletic department. "We are exploring all legal options at this time. I will have no further comment, instead deferring to the University of Alabama's statement on the matter."
On March 9, Alabama athletic director Greg Byrne released a prepared statement saying, in part, "Last night, an inaccurate report was published about Kai Spears, one of our student-athletes being present at the time of the incident. This is untrue. As law enforcement previously shared, Brandon Miller and Jaden Bradley were present.
"Both are fully cooperating witnesses. Neither have been charged with any offense nor did they violate University policy."
Former Crimson Tide player Darius Miles was dismissed from the team shortly after his arrest in the shooting. He was later indicted on a capital murder charge.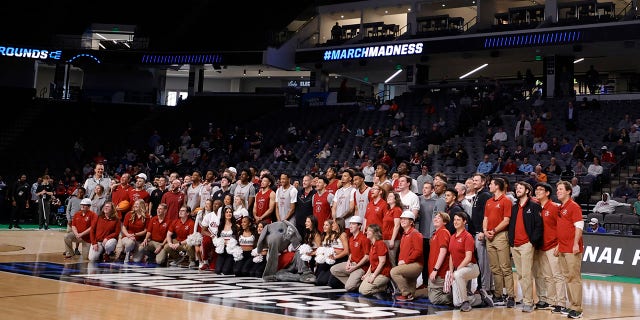 Miller is a first-team All-American who allegedly transported the gun used in the killing at the request of Miles. But Miller does not face any charges, and his attorney denies Miller handled the gun, adding Miller not know the gun was inside his vehicle.
Bradley has not been charged either.
CLICK HERE TO GET THE FOX NEWS APP
Alabama enters the men's NCAA tournament as the No. 1 overall seed. It defeated No. 16 Texas A&M Corpus-Christi in a first-round game Thursday.