John Hynes first met Colm Horkan when he was the sergeant in charge of Unit B in Castlerea. It was January 1999.
Colm Horkan had passed out in Templemore four years previous to that and had been stationed in Finglas in Dublin. He was then transferred to Castlerea, where he worked under Sergeant John Hynes.
"From the get-go Colm was the most reliable guy you could get. He was a true professional in the job. His attention to detail in every aspect of the job was absolutely exemplary," said the now retired sergeant.
John Hynes said Colm was keen to learn and he had a huge interest in crime. He had a vast amount of experience from his time in Finglas and was eager to learn more.
"Whether it was a community issue or dealing with serious criminal investigations, Colm did it to a very high standard. He was a stickler for detail," he explained.
"If you were coming in off the street and you had a problem, no matter how trivial, his greeting would put you at ease.
"Colm Horkan is the person you'd want to meet. Also, you'd be guaranteed that your problem would be handled with the utmost professionalism and dedication."
On a personal level, Colm Horkan was a close friend of John Hynes.
Their friendship grew during long days and nights of tedious and often disturbing investigations. They worked closely on harassment and sexual violence cases, as well as cases of child sexual abuse and rape.
"His attention to detail in criminal investigation was exemplary. We dealt a lot with sadness throughout our time in the force and that, in a way, brought us closer together," he said.
"Most of the cases were really sad and sombre. We spent a lot of time in Dublin together attending the Central Criminal Court and we always shared the same accommodation," he added.
"He investigated some very serious incidents of child sexual abuse and rape with me, and he really went to the ends of the earth to ensure the victims got justice in those cases. He left no stone unturned."
John Hynes counted Colm Horkan amongst his closest friends. He said Colm often visited his home and his children idolised him.
Remembering a man with perfectly pressed trousers and polished shoes, John Hynes said his friend was always impeccably groomed.
"He was a wonderful person with an infectious smile, and he had a passion for fashion. Tommy Hilfiger outfits and Ralph Lauren brands and his hair was always jelled. He put the rest of us to shame," said Mr Hynes.
"Colm was due to finish work early that night. A call came in and he went out to investigate it and we all know what happened. That was Colm Horkan, protecting the public.
"Anything he did, he did very well. He was truly the epitome of what it means to be a guard in this society."
Outside of the gardaí, Colm Horkan was heavily involved in the Sarsfield GAA Club in Charlestown where he was from. 'The Bear', as he was nicknamed for his football style, represented Mayo at U21 level.
Working as a detective garda in neighbouring Roscommon, he enjoyed the neighbourly banter that came once the league began and intensified throughout the summer. He too dreamed of Mayo winning Sam Maguire.
He supported Liverpool too and regularly made trips to Anfield. He ran into former Liverpool striker Ian Rush at a game a number of years ago and took the opportunity to take a picture. In the days following his murder, Ian Rush paid tribute to the detective garda.
"I want to let his family know that they will never walk alone," he said.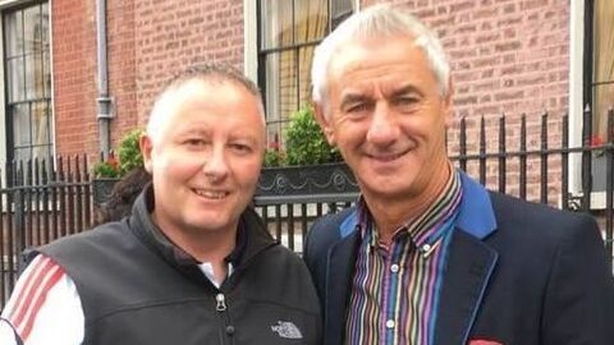 On the night he was killed, one of those by Colm Horkan's side was Fr John McManus. He received the call and gathered his anointing oils and a prayer book before heading for Main Street.
He knelt down beside Colm and performed the late rites. On that quiet summer night, he was joined in prayer by Colm's colleagues.
"It's a night none of his colleagues will forget, it's a night none of us will forget. To see a young man taken down in the prime of his life, doing his duty," said Fr McManus.
"The gardaí that were there were stunned, as were the community in Castlerea," he added.
Fr McManus recalls the great support shown for Colm's family and colleagues in the days that followed. The rain was beating down in Castlerea the following night, he recalled, yet hundreds of people turned out for a short memorial service.
"People just wanted to express their grief, their sorrow, their sadness. People came to their doors to remember Colm," he said.
Forty years before this murder, on 7 July 1980, Detective John Morley and Garda Henry Byrne were killed in Loughglynn, just over 10km away from Castlerea.
The two gardaí, who were stationed in Castlerea, were killed while responding to a bank robbery in nearby Ballaghaderreen.
"It's tragic. It was devastating news and coming 40 years after the tragedy of John Morley and Henry Byrne, for many people in Castlerea they were revisiting a time of great trauma and pain," he said.
Danny Burke, one of Castlerea's most best-known characters, remembers that tragedy well.
"What a devastating day. John Morley organised a guard of honour for my mother's funeral that day and little did we know, later that day his life would be taken so tragically," he said.
He knew Colm Horkan too, describing him as a "good guard".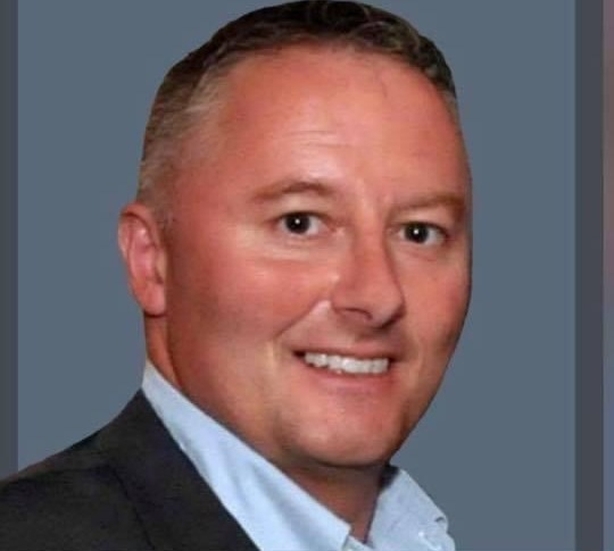 "Colm was a true gentleman and a man who carried out his duties in a very caring way," Mr Burke said.
"He loved football. We used to enjoy the banter about Mayo and Roscommon.
"That night will never be forgotten. I often see people get out of their cars as they drive through Castlerea on their way to Knock. They go to the spot where he died and say a prayer for him.
"He'll be best remembered for his kindness and professionalism. He had great time for people. He listened. He always be remembered for that."
Colm Horkan joined the gardaí on 25 July 1994. In his class, Detective Garda Adrian Donohoe, also shot dead in the line of duty.
Also in that phase in Templemore were Garda Eoin Fitzgerald and Garda Ambrose Fogarty, killed while on duty in separate road traffic collisions in 1998 and 1999.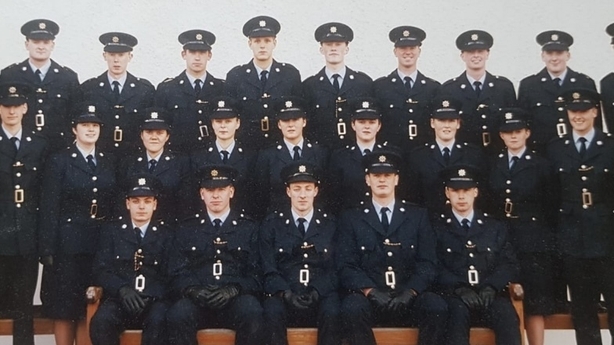 They, like Colm went to work and never came home. Their deaths, like Colm's, are felt every day by the people who knew and loved them.
On being appointed a garda, Colm Horkan, like his colleagues, took an oath promising to discharge his duties with fairness, integrity, regards for human rights, diligence and impartiality, upholding the Constitution and the laws and according equal respect to all people.
His colleagues say he did that every day of the week and in the end made the ultimate sacrifice.
It is clear from talking to people who knew and loved Colm, that his death has left a huge void. A good garda and a true gentleman, Colm Horkan was both.
"Colm touched so many people's hearts. He was a great colleague, a great friend and a great community man. He will never be forgotten. I pray to him. I talk to him, and I'll continue to do that," said John Hynes.
"As Brendan his brother said during the eulogy at his funeral mass, he was the rock within the family. He was the glue that kept the family together and that could be said for members of An Garda Síochána as well," he added.
"He'll be remembered as a hero. We all miss him, and he'll be forever in our hearts and never be forgotten," he said.